Comedian – Speaker – Variety Entertainer
Are you ready to transform your event into an unforgettable experience?
Look no further than Greg Frisbee!
With his irresistible blend of comedy, tricks, and motivational storytelling, Greg is the dynamic and engaging force your event needs.
Get ready for an entertaining presentation from Greg that will leave your audience laughing, amazed, and inspired.
His quick wit, hilarious antics, and stunts will have everyone on the edge of their seats, craving more.
But Greg offers more than just laughter; he's a master storyteller, sharing personal triumphs and life lessons that ignite motivation and empower individuals to reach their full potential through his Sheep Theory and Thinking Outside The Flocks.
Whether you're hosting a corporate event, conference, or private function, Greg's versatility and entertaining acts guarantee a night of entertainment, connection, and growth.
Elevate your event to extraordinary heights with the comedic brilliance and inspiring messages of Greg Frisbee.
Book him today and prepare for an experience your attendees will discuss for years to come!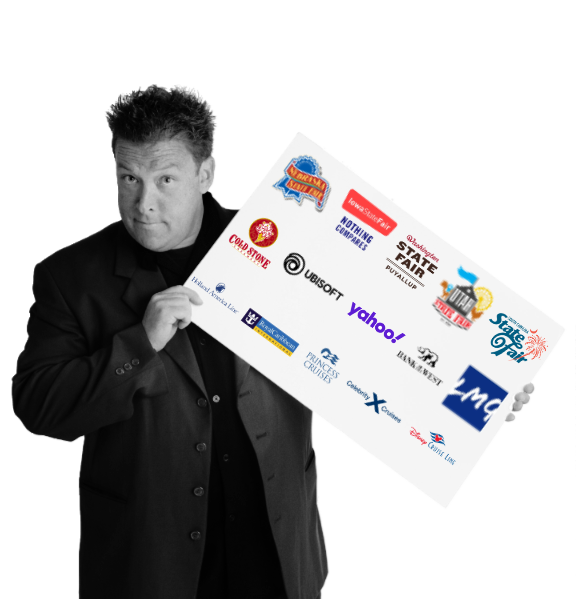 With Greg Frisbee, You Have A Variety Of Choices
A world of entertainment and personal growth options in one place.
From side-splitting comedy and variety shows featuring juggling and magic to transformative speaking engagements and creativity coaching.
Greg offers a diverse range of choices to ignite laughter, amazement, and self-discovery.
Comedian and Juggler Greg Frisbee will have you laughing out loud and keep you on the edge of your seat.
This show is highly adaptable to any audience and most any venue.
Perfect for a variety of event venues, including corporate events and cruise ships.
Speaker & Creativity Coach
→ Learn tools for your business or yourself on how to unleash your creative potential and effectively introduce new ideas.
→ Overcome obstacles and self-imposed limitations and help you become your more authentic self.
speaking and Coaching At your business, school or association event.
A dozen amazing Rubber Chickens star in this comedy variety EGGstravaganza, hosted by Greg Frisbee.
Your audience will crack up as the amazing Rubber Chicken Show will astound your audience with juggling, magic and YES, rubber chickens
Perfect for fairs, festivals and a variety of event venues.
Greg Frisbee and his comedy ice cream cycle roam your event, bringing scoops of fun for everyone, and melting the hearts of your fair-goers with its flavors of nostalgia and fun.
Perfect for fairs, festivals & including corporate events.
Providing an innovative solution to engage and connect with your customers: fun marketing and social media videos featuring puppets!
We create professional videos to use on a range of platforms, such as YouTube, Instagram, Facebook, and more.
Perfect for social media, commercials, TV & film.
Contact me today!
Whether you are looking for entertainment for your event, unique marketing content with puppetry or you are interested to have me speak for your group, contact me today and I will get back to you ASAP to discuss the possibilities.
Greg Frisbee Productions
415-786-7469